Custom Motorcycle Seats, Seat Foam & Gel Pads
Mac's fits, builds and repairs motorcycle seats. We also custom manufacture motorcycle seats to your specifications. Cafe to cruiser, sport bike to dirt, touring to classic, we do it all. We built the best motorcycle seats, seat foam and gel pads!
Custom Motorcycle Seats Designed For Your Comfort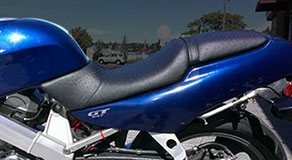 For motorcycle enthusiasts, few items impact comfort more than your seat. What looked and felt good in the showroom can turn into a torture device an hour into your Sunday ride. Manufacturers design seats and seat foam to fit the widest range of people.
At Mac's, we fabricate custom motorcycle seats to fit you. We reshape seat foam to accommodate you. We lower, narrow or widen your seat so everything feels just right. We fabricate special polymer gel seat pads to maximize your comfort.
In addition to motorcycle seats, we build custom seats and pads for bicycles, race cars, riding mowers, trucks, cars, snowmobiles, helm seats, go-karts, wheelchairs, fork lifts, office furniture, equestrians, mattresses, floors and personal seats for sporting events.
A Smoother Ride With Our Motorcycle Seat Gel Pads
We discourage bikers from buying off-the-shelf gel seat pads. In our opinion, these one-size-fits-all gel pads for motorcycles are a waste of money. They're not designed for your body or your bike. They may slightly improve your ride, but they don't begin to match the comfort of our custom-fit motorcycle seat gel pads.
Our custom-designed motorcycle gel pads & cushions are fabricated from sheets of a special medical polymer. This ultra-soft, shock absorbing material was invented more than 30 years ago to prevent pressure sores in patients confined to a bed or wheelchair.
Gel Seat Pads & Gel Pads For Motorcycles
While originally created with medical applications in mind, the shock absorbing properties of this polymer are perfect for dozens of other products.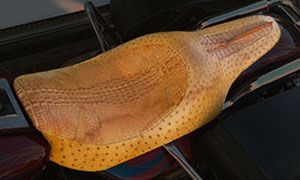 It's used in gun recoil pads for hunters and law enforcement personnel. It's also used to manufacture jackhammer gloves, race car seats, and pads for injured horses. Remember Danny DeVito's penguin suit in the movie "Batman Returns"? It was made from the same medical polymer we use to fabricate our custom motorcycle gel pads and gel seat pads.
This soft gel makes the ride smoother by decreasing pressure points and increasing blood flow throughout your hips, butt and legs. Our special medical polymer is a stable solid -- far better than an off-the-shelf silicone pad, which can generate and hold heat during the summer. Our motorcycle seat gel pads are the best!
Custom Motorcycle Seat Upholstery
A custom motorcycle seat from Mac's not only fits your body, it fits your style — you select the cover, stitching and trim. And the sky's the limit! We can make it look any way you want. We carry a wide variety of studs and conchos. Custom embroidery is also available for a truly unique look. Click here to view a slideshow of selected seats.
Your design choices are truly awesome. We stock everything from durable, marine-grade vinyl to leather to exotic materials such as alligator, stingray and ostrich. Many come in wide variety of textures and colors.
Motorcycle Seat Repair & Seat Foam
This set of before & after pictures (below) illustrates our quality craftsmanship. The top three snapshots show a damaged motorcycle seat literally held together with duct tape. It's totally trashed! By the time we're finished repairing it, the seat looks brand new! Count on Mac's to deliver unsurpassed craftsmanship. We're proud of our work and it shows!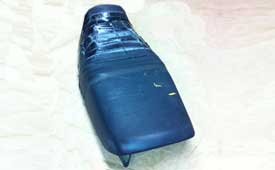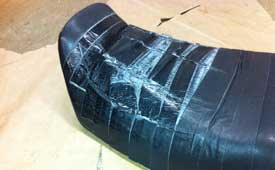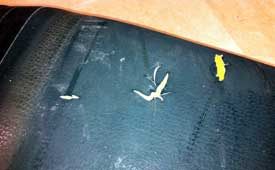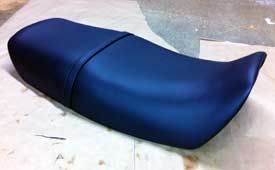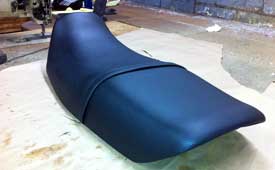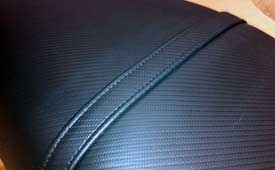 Quality Custom Seats For Motorcycles
Whenever possible, we visit local motorcycle meets to stay on top of trends and styles.
Here are some snapshots from a recent Backfire gathering in Ballard. Backfire is the perfect place to meet other motorcycle enthusiasts. You'll find ratbikes, cafe racers, vintage bikes, Harleys, scooters, crusiers, hot rod bikes -- just about everything.
A lot of the bikes feature custom motorcycle seats by Mac's! Check the club's website for meet dates. We'd like to see you there!


We custom fit motorcycle seats for motorcycle enthusiasts throughout the nation, including: Bellevue, Kirkland, Issaquah, Redmond, Bainbridge Island, Shoreline, Kenmore, Woodinville, Mill Creek, Mountlake Terrace, Lynnwood, Renton, Kent, Des Moines, Federal Way, and Tacoma.
Out of state customers please ship to: Mac's Upholstery, 5015 15th Avenue NW, Seattle, WA 98107