Food Truck Black-Out Shades
Have you checked out The Fork & Fin? It's a Seattle area food truck specializing in fresh Alaskan Pollock. You'll often find it parked near the waterfront in Ballard or inside the stadium during a Seahawks game.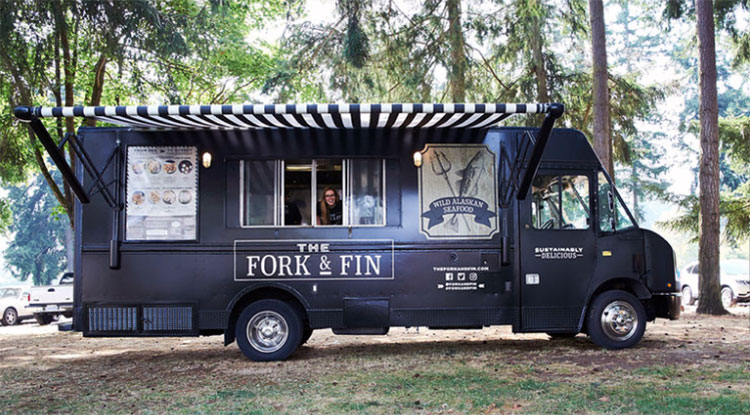 Great food is the recipe for a successful food truck, but appearances count. The owners of The Fork & Fin have the great food part down. They called us to fabricate a set of black-out shades to keep the truck looking sharp during take-out hours.

Food Truck Front Cabin

Front Cabin Black-Out Shades

Food Truck Side Door

Side Door Black-Out Shades
Black-out shades usually require two layers, an opaque fabric to keep out the light and something that looks good to cover it. For this application, a single layer of black fabric would do the trick.
The owners wanted to cover the windshield and two side windows. We recommened durable, fade-resistant Sunbrella© because it's a premier outdoor fabric with a dense weave. Since Sunbrella© is a solution-dyed acrylic, we heat-sealed the edges to prevent fraying then sewed binding strips all the way around each insert.
To make sure the fit was right we patterned twice and did the snaps and final trim on site. Perfect!