Rebuild Pickup Bench Seat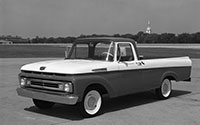 This is a rebuilt bench seat from a 1960s Ford pickup. It was a complete remake from the ground up: we repaired the frame and springs, replaced the damaged foam and covered it with new vinyl. We also added pleats and updated the colors.
While some collectors insist on original parts or authentic looking knock-offs, others like to be creative. There's nothing original about this bench seat. For one thing, the vinyl we used for the seat cover is a lot more supple, durable and brighter than anything available back in the 60s.

Rebuilt Bench Seat

Precision Pleats

The Finest Vinyl