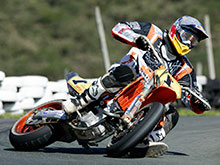 Supermoto conversions were big in the early eighties. The modifiction procedure went something like this: take a dirt bike or enduro, add 17 inch wheels, flip the front forks and beef up the brakes. Make a few more adjustments and presto chango, you'd get a nimble, light weight, street legal bike designed to handle just about anything, including off road bumps and jumps.
These versatile bikes fell out of favor roughly 30 years ago when ABC Sports stopped promoting supermoto races. Now they're making a comeback. While factory-built supermotos are available, lots of bikers prefer doing their own conversions. This is one of those do-it-yourself models. The owner wanted a perfect custom seat, so he came to us.

Custom Supermoto Bike

Stiff Rebond Padding

New Custom Padded Seat & Cover

New Custom Seat (rear view)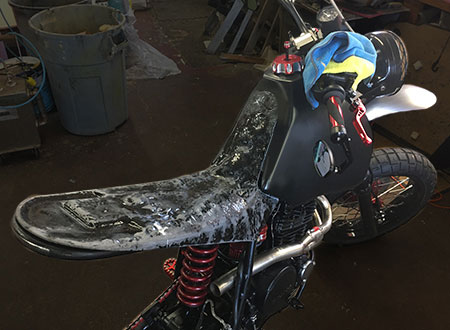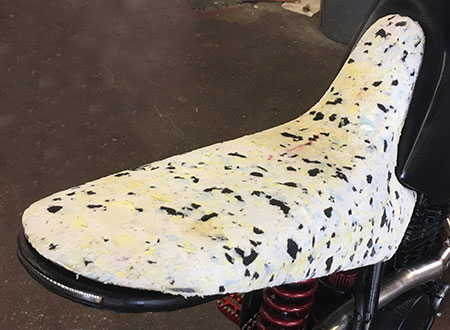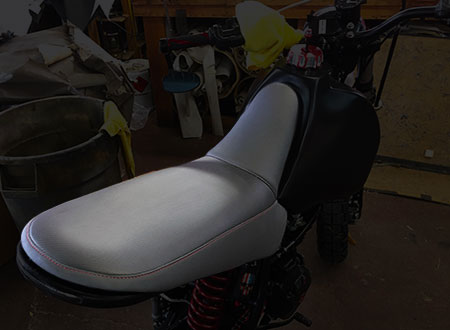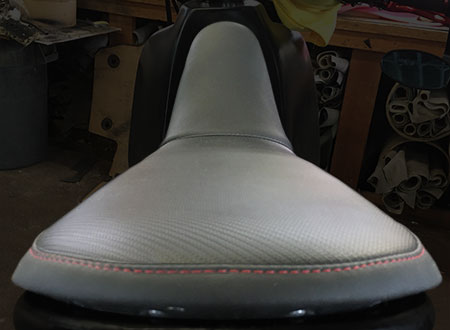 The bike owner wanted a functional design with a little pazzazz.
Stiff rebond foam is ideal for a demanding supermoto seat like this. After shaping the foam, we recommended two charcoal vinyls with the same hue; a textured vinyl for the saddle face, a slightly tacky vinyl for the sides. The result is a medium stiff seat with a little bite to hold the rider in place.
When building a seat from scratch it's tempting to tuck a gel pad inside to enhance comfort. Custom gel is a must for cruisers or street bikers stuck in one position for endless miles. Supermotos are a horse of a different color. You're not gonna be sitting in one position riding one of these; gel pads are strictly optional.