How to Make Custom Marine Bedding Covers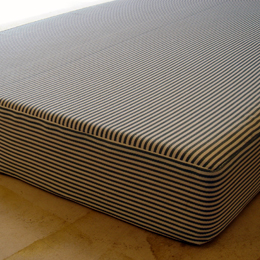 Mac's Upholstery manufactures bedding for yachts and pleasure craft. Seattle's commercial fishing and crabbing fleets also count on us for comfortable, durable marine bedding.
Since no two boats -- or bunks -- are exactly the same, it's important to first climb on board and draw patterns of each individual bunk. The bunks on small boats tend to be slightly beveled to match the hull's pitch. The hulls of larger vessels, such as the commercial crabber for which this bedding is being manufactured, usually accommodate more standard shaped sleeping cushions.
Zipper Placement for Commercial Vessels
After selecting and sizing the foam to match the bunk's pattern, we measure and cut the cover. For this project, ticking made from artifical fabric is a much better choice than natural fabric. It's both less expensive and mildew resistant -- important considerations in a demanding marine environment.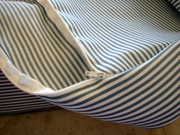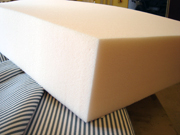 Commercial bedding differs from bedding we manufacture for most yachts and pleasure craft. To keep costs down, we sew the zipper into the bottom of the side panel instead of the center.
While this method requires that the 'zipper side' always remains down, it streamlines the manufacturing process and keeps the cost down.