Boat Upholstery, Yacht Interiors & Boat Cushions
Mac's custom manufactures pleasure boat upholstery, yacht upholstery and commercial vessel upholstery. If you need boat cushions, mattresses, curtains, or helm seats, call Mac's. If you're looking for galleys, railings, foam, or speed-boat interiors, call Mac's Upholstery. We also carry a large selection of marine grade carpet and vinyl upholstery.
New Boat Upholstery, Repair Boat Seat Cushions & Yacht Interiors
US Navy Range Training Support Craft
GALLEY SEATING
A Tacoma boat builder is manufacturing a series of innovative, cutting-edge Range Training Support Craft for the United States Navy. Since quality and craftsmanship are critical in this sort of project, it's no surprise they selected Mac's Upholstery to fabricate galley seating for the boats.
Getting the job done right is little more complicated than you might imagine. To begin with, we used different depths and densities for the padding. For maximum support, we built the seat cushions from four inch, high-density polyurethane foam. For maximum comfort, we used a softer, two inch foam for the seat-backs.
The cover material had to be durable and easy to clean. Naugahyde® turned out to be the perfect choice. In this case, we used Spirit Sky Blue Naugahyde®. This is one of the manufacturer's newest fabrics. The texture "grips" nicely – it's not too slippery. It's also treated with an environmentally friendly surface protectant. Click here for more on Spirit Sky Blue Naugahyde.
Fight Condensation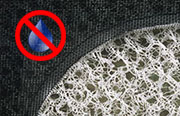 HyperVent
Mac's Upholstery is Seattle's expert in upholstery for boat seats, boat upholstery, boat interior upholstery, yacht upholstery and commercial vessel upholstery. Mac's manufactures custom helm seat covers, bow cushions, deck chair cushions and beds. We also design and make curtains, draperies, galley cushions, V-berth cushions, inside cushions, outside cushions, boat cushion foam and marine carpet.
Hundreds of Marine Upholstery Fabrics
From speed boats to yachts to fishing vessels, Mac's Upholstery is the best place to go for marine upholstery. Our showroom stocks literally hundreds of marine upholstery fabric samples. We have dozens of foams to choose from. We'll help you find the perfect fabric and foam for the demanding marine environment.
Clean & Repair Boat Seat Seattle
If you need your marine upholstery cleaned or repaired, call Mac's Upholstery. Our boat cushion cleaning service is tops in town. Call us for a free on-site estimate. Be sure to ask us about all your marine upholstery needs today. We do everything!
Boat Cushions & Marine Upholstery Seattle
We're the place to call when you need to recover boat seats or when you need custom boat seats, boat cushions or boat seat repair. Mac's Upholstery is the leader in vinyl boat seat repair, boat seat foam, speed boat seats, boat seat covers and boat seat cushions. Because we're close to the waterfront you can depend on us for quick custom changes, fittings and installation.
Seattle's commercial fishing and crabbing fleets count on Mac's for quality work and quick turnaround.
Boat Seat Upholstery Repair Service
Give us a call or stop by our showroom if you need boat cushions, seat covers, bimini tops, boat seat repairs, helm seats, bow cushions, marine mattresses, cockpit covers, mooring covers, or marine foam replacement. We're also the place to go for marine carpet replacement, hull liners, custom boat seats, pontoon boat upholstery, pillows, commercial galley chairs, custom boat covers or settees.
Marine Fabrics & Boat Seat Vinyl Upholstery
Mac's Upholstery carries the finest fabrics and marine grade fabrics including: Sunbrella, Spinneybeck, Duralee, Majilite, Robert Allen, Stamoid Marine, Ultrasuede, Kravet, Laura Ashley and Ultraleather.
Canvas Tops, Enclosures and Covers
Our boat and yacht canvas shop is conveniently located near the Ship Canal and Fishermen's Terminal, just four blocks south of Mac's Upholstery (left). The yacht canvas shop specializes in custom boat enclosures, custom yacht enclosures, Makrolon® enclosures, dodgers, boat covers and windows. Click here for our canvas shop.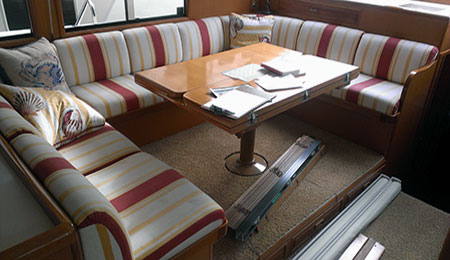 Original Galley Seats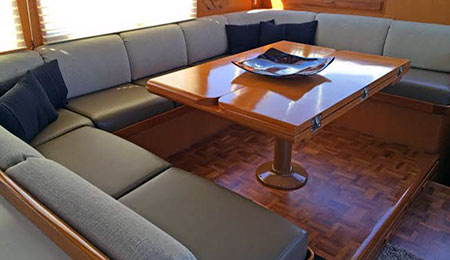 Galley Seats After New Upholstery
Pink Stain Is Dangerous

Pink Stain On Boat Cushion
Pink stain or "pink mold" is a common problem faced by Northwest boaters. The micro-organism that causes the slimey pink film commonly found on shower curtains and boat cushions is actually not a fungal growth, but an airborne bacterium -- Serratia Marcescens.
This stubborn "pink slime" bacteria colonizes moist environments such as bathrooms and boats. It's also a problem in medical facilities where it causes a number of hospital acquired infections. In brief, pink stain is not only ugly, it's dangerous.
We can help. When fabricating boat seats or cushions, the marine upholstery experts at Mac's Upholstery take specific preventative measures designed to discourage pink stain from contaminating your boat upholstery and seats.
If this nasty bacteria ever does appear on your boat cushions, you'll have to keep them dry and disinfect on a regular basis. Reupholstering the cushions the proper way may be the most practical, long term solution.
Marine Upholstery Yachts, Boats & Commercial Vessels
Albemarle
Albin
Aquasport
Azimut
Bayliner
Beneteau
Bertram
Blackfin
Boston Whaler
C & C
Cabo
Californian
Carver
Catalina
Century
Chaparral
Chris Craft
Cobalt
Contender
Crownline
Cruisers
Custom
Donzi
Doral
Egg Harbor
Formula
Fountain
Four Winns
Grady White
Grand Banks
Gulfstar
Hatteras
Hunter
Hydra-sports
Intrepid
Island Packet
J Boats
Jeanneau
Jefferson
Larson
Luhrs
Mainship
Mako
Maxum
Meridian
Monterey
Morgan
Ocean
Ocean Alexander
Pearson
Pro Line
Pursuit
Rampage
Regal
Regulator
Rinker
Riviera
Robalo
Sabre
Sea Ray
Seaswirl
Silverton
Sunseeker
Tartan
Tiara
Tollycraft
Trojan
Trophy
Uniflite
Viking
Wellcraft