Beneteau Sailboat Settee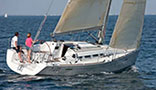 You're not going to find a more striking example of new upholstery transforming a run-of-the-mill salon sette into something extraordinary.
Compare the original starboard settee from a 42 foot Beneteau Sailboat (insert in large picture below) to the new one. Look closer and you'll discover subtle design improvements, beginning with the seat decks.
The original seat decks were manufactured the standard way, with flat polyurethane foam. Instead of doing it that way, we built a sturdy foam ridge along the lip. This smartly upholstered foam ridge not only cups an individual snugly into the seat, it lifts their legs a couple of inches, reducing lumbar strain. The back cushions are either contoured or angle-cut for optimum confort.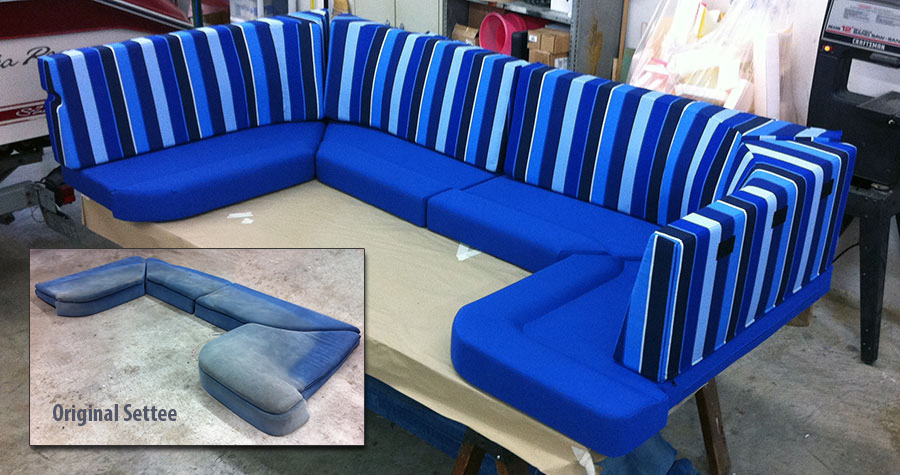 Main Salon Starboard Sette, 42 Foot Beneteau Sailboat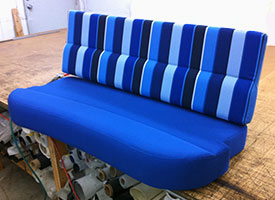 Contoured Back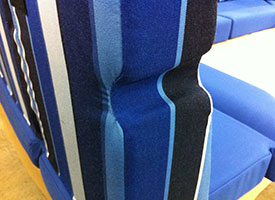 Notch For Armrest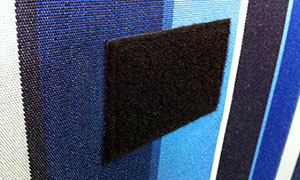 Velcro™ Fasteners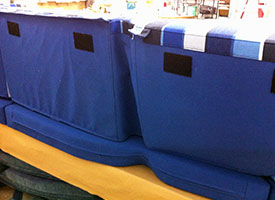 Support Bar Notch
Rather than snap fasteners, we used velcro. Velcro allows more flexibility in cushion placement. Notches in the cushions to accommodate an arm rest and a mast cable bar are engineered to fit like a glove.
As always, we use only the finest marine-grade foams and fabrics. For this settee, the boat owner selected striking Mediterreanean colors from Sunbrella's marine fabric collection.
The new settee is snug, looks great, and fits the salon perfectly. And thanks to our design improvements and craftsmanship, it'll last for years.